Posts in category
Archives
---
Here is a new gift from Archangel Gabrielle, her Golden Filters, along with a reactivation of her Golden Magnets. Now come back again to your heart and to the gift of Gabrielle's Golden Filters. We're given so many gifts but this is our Ascension prep gifts, not that they all haven't been….
Listen to Johnny Reid Today I'm Gonna Try and Change the World. We all need a little lift and inspiration – the opening and theme song for the Sedona Gathering. Enjoy my sweet friends – see you in ONE MONTH!!!!
AGENDA FOR 15TH ANNUAL COUNCIL OF LOVE GATHERING ~THE SHIFT October 28 – 10, 2011 FRIDAY 10:00 – 11:00 AM OPENING CEREMONY & WELCOME CHANNELING 11:00 – 12:00 ABOUT THE SHIFT – WHAT IS IT? THE DETAILS OF HOW, WHEN, WHY, EARTH CHANGES & MORE 11:00 – 12:00 13TH OCTAVE INITIATION & DISCUSSION 12:00 – …
It's amazing and heart-warming when you realize that all the work you've done for years comes neatly together like the pieces of a puzzle. So it is with this year's Council of Love Gathering on The Shift.
…the choices of creation are yours. The embodiment of energy into form is the next adventure. And the embodiment of Love into form, it is the fulfillment of my plan, and dear hearts, it is the fulfillment of your plan. It is the only reason you have reincarnated at this time.
You are the anchors of light, you are the anchors of the future, you are the Mother's forerunners, the pathfinders. But your light is shinning brightly and we are in sacred partnership like never before.
At our 2010 Annual Gathering in Sedona, Grener came through to give us a vision of life aboard the ships and their mission for helping in our Awakening. 'Originally we came because Sananda spoke to us and he told us of the promise, the unfoldment of Love upon a planet, a blue and green where …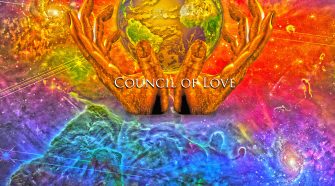 Gaia is preparing herself for the reception of new energies, certainly new inter-dimensional energies, but she is also preparing to receive visitors, your star brothers and sisters.
"Feel the deep joy of being alive, being alive at this time, being alive on Gaia, and being alive as my beautiful agents and angels of change"