This webinar series will transform you from integrated to inspired! It will help you discover and engage the full richness of your inspired self, in all aspects of your life.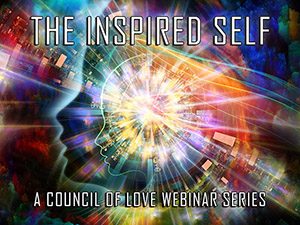 Do you truly know what it is about you that makes your heart sing? What talents, abilities and actions catalyze and bless you with such a profound sense of gratitude that you are overflowing? Such an innate sense of self that you are absolutely itching to conquer the world, or perhaps even the universe?
What is your core inspiration?
The idea for this course began as the Integrated Self. As the Council began to work with me on the content it became clear that the integrated self is the starting point, a necessary precursor to the inspired self. The beginning, not the desired outcome. Deeply understanding all aspects of your sacred self and bringing all those aspects into active integration is the foundation of the inspired self.
So much new information has been brought forth since the original publication of The New You, and as always, I am anxious to share it with each of you. This journey will take us not only through familiar territory but introduce new concepts and understandings into the essence of your being.
What will the Inspired Self offer you?
Clarity of your sacred mission and purpose
Deeper merging of known aspects of your angelic, star seed, Atlantian, Lemurian, Wingmaker selves
Deeper connection to your Inter-Dimensional Self
Understanding and engaging your Stranger Without & Watcher Within
Conscious anchoring & integration of your Admirer & Critic
Claiming and living your Divine Authority
A new level of self-understanding and being
Profound knowing, embracing and in-dwelling of your Inspired Self
Our Approach: 
4 live webinar classes with dynamic Q & A ‐ April 22, May 6, 20, and June 3, 2017, from noon-1:30 p.m. ET
Targeted weekly guided meditations
Selected pertinent channeled readings
Live channelings with Linda Dillon
Daily interactive forum with Linda Dillon fully participating and available for consultation
This is a personal invitation from my heart to yours to join me as we walk together towards our destination of Ascension. Let's walk this path together.
This is a crucial time of growth and amazing expanded opportunities. The Council of Love is offering a depth of understanding and expansions of energy not previously available to us. Will you allow the Council to mentor you through this process? This gift cannot be overstated. Join me as we take this quantum leap of discovery together.
To register visit the Spirit Store.